BioChaperone® Combo
BioChaperone® Combo (BC Combo) is a fixed combination of two gold standard insulins: long-acting insulin glargine and rapid-acting insulin lispro. Such combination was made possible thanks to Adocia proprietary technology platform BioChaperone®.
Many patients worldwide prefer to use premixed insulin, rather than two separate products. They provide simpler administration scheme. However, they do not offer ideal medical performance.
BC Combo offers several advantages over traditional premix:
No change in individual pharmacodynamic profiles of basal and prandial insulin
Reduction of the level of postprandial hyperglycemia and the risk of late hypoglycemia
Better 24-hour basal control
BC Combo is already partnered in Asia with Chinese company Tonghua Dongbao. Results of ongoing clinical trials should enable BC Combo to enter in Phase 3 studies in China. Adocia retains development rights for BC Combo in many territories such as (but not limited to): USA, Europe, Japan and Latin America. BC Combo is ready for out-licensing in these territories.
A safer alternative to premixed insulin for treatment intensification in people with type 2 diabetes.
To improve glycemic control, especially after mealtime, patients may be recommended to add a prandial insulin to their treatment regimen. This can be achieved via the addition of prandial insulin to the basal insulin, or by replacing basal insulin with premixed insulin. Premixed insulin aims to combine the profile of long and rapid-acting insulins. Premixed insulin brings the advantage to ease regimen of administration, with one product only given twice-a-day at a fixed ratio (rather than two products, four times per day at variable doses). However, they do not offer ideal medical performance, due to a delayed and prolonged prandial action associated with an elevated risk of hypoglycemia, and a slow basal action profile of less than 24 hours.
To meet the medical need for a regimen as simple as that of premixed insulin but as effective as a multiple-injection regimen, Adocia has developed BioChaperone® Combo. BC Combo relies on BioChaperone® technology to overcome the technical challenge to combine glargine and lispro, two proteins with incompatible solubility profiles.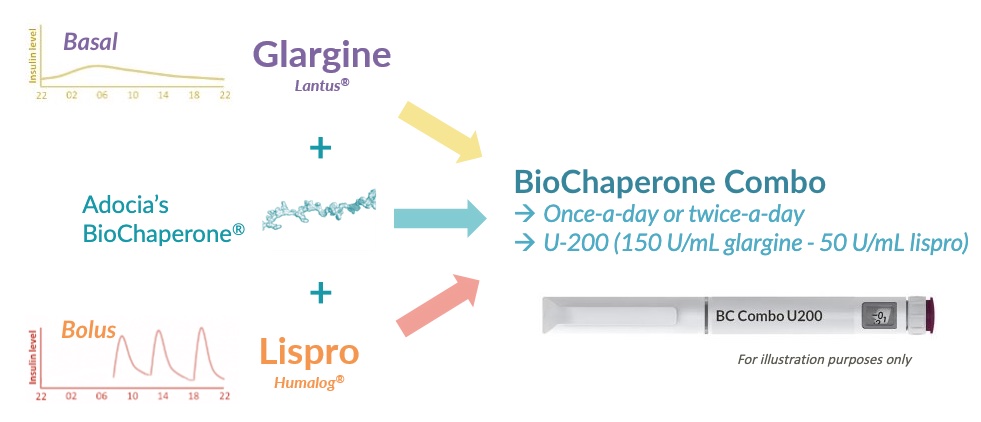 Clinical Results
To date, BioChaperone® Combo has been successfully tested in 5 clinical studies in more than 140 people with type 1 or type 2 diabetes, and repeatedly showed a faster prandial profile and longer basal profile compared to an analog insulin premix (HumalogMix® 75/25).
Phase 1b clinical results – Evaluation of the effects of BioChaperone® Combo on postprandial glycemic control in people with type 1 diabetes (n=28)
Pharmacodynamic profiles for BioChaperone® Combo 75/25 and HumalogMix 75/25 after a liquid meal obtained from 28 people with type 1 diabetes (NCT#02514954). 1 p=3.10-3.2 p=8.10-3. BioChaperone® Combo reduced significantly the postprandial blood glucose levels more than Humalog Mix25 during the first 2 hours. The minimum blood glucose level observed during the period was significantly better controlled. BioChaperone® Combo also provides a reduced risk of late hypoglycemia following a meal.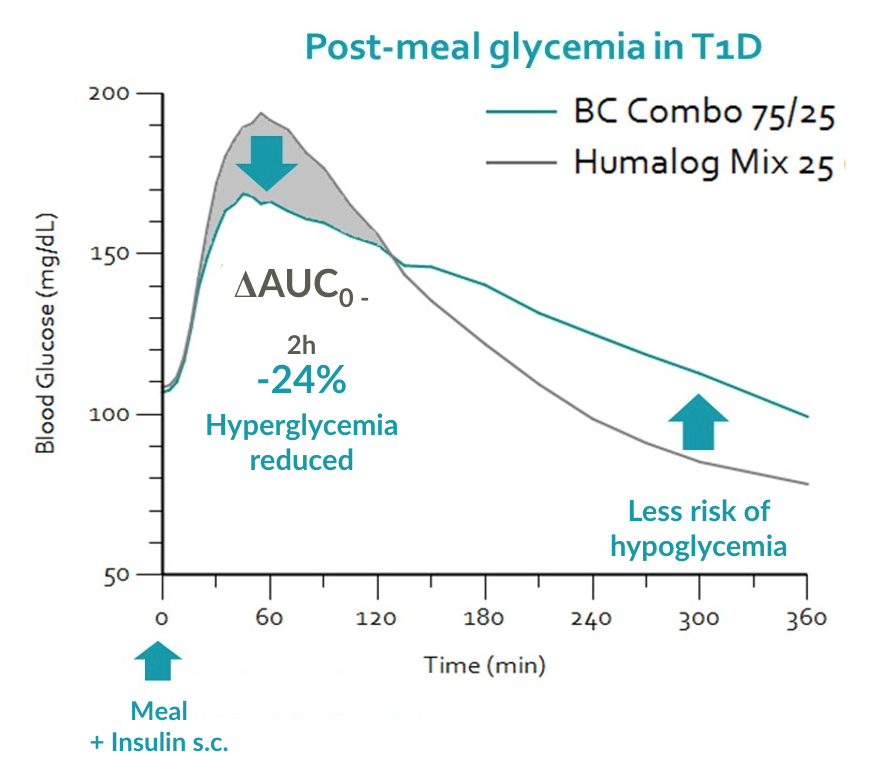 Partnership with Tonghua Dongbao Pharmaceuticals
Adocia has entered into a strategic alliance with Chinese company Tonghua Dongbao in 2018. Adocia granted exclusive development and commercialization rights to Tonghua Dongbao for BioChaperone® Combo in China and other Asian and Middle East countries. In order to register BC Combo in China, Tonghua Dongbao has chosen to rely on Adocia expertise to conduct part of the clinical development.