ADORAL® SEMA
AdOral Sema is an orally administered glucagon-like peptide 1 (GLP-1) receptor agonist: semaglutide. Semaglutide is approved as a treatment of type 2 diabetes to improve glycemic control. It is also approved for weight loss and weight maintenance.
Adocia has applied its AdOral® technology to switch the administration route of semaglutide from injectable to oral.
Preclinical results show that AdOral® Sema has a significantly improved absorption.
Preclinical results – Median pharmacokinetic profile of oral semaglutide in dogs over five hours after administration (n=10)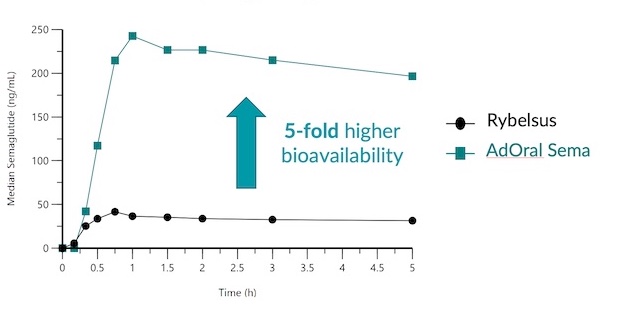 Formulation of semaglutide with AdOral technology demonstrates at least a five-fold higher bioavailability compared to Rybelsus®.
AdOral technology opens up numerous applications for oral formulation of peptides.